How to use the form to generate breeding documents
Privacy Guarantee
This form never asks you for any financial information, and all data collected are secured unless you give us permission to publish for the purpose of marketing the offspring. The information you allow us to use will be listed in the for sale section of our website.
How to Start:
If you have never used the form to enter your and your mare's data before, please ignore the Search portion of this form. If you already entered all the data before, skip to "How to use Search".
Start with specifying the Breeding Season and Service Agreement Year. The two year fields should be the same for a new contract. In case your mare didn't get in foal or the foal didn't survive the term of Live Foal Guarantee, your Service Agreement Year may be last year. It is important to specify these two fields correctly as the two year values, your First and Last Name, Zip Code and Mare's name creates a unique record.
Enter all fields. Only fields in italic font and shaded in gray are optional, but it is helpful to include all your information for best communication and foal marketing later if desired.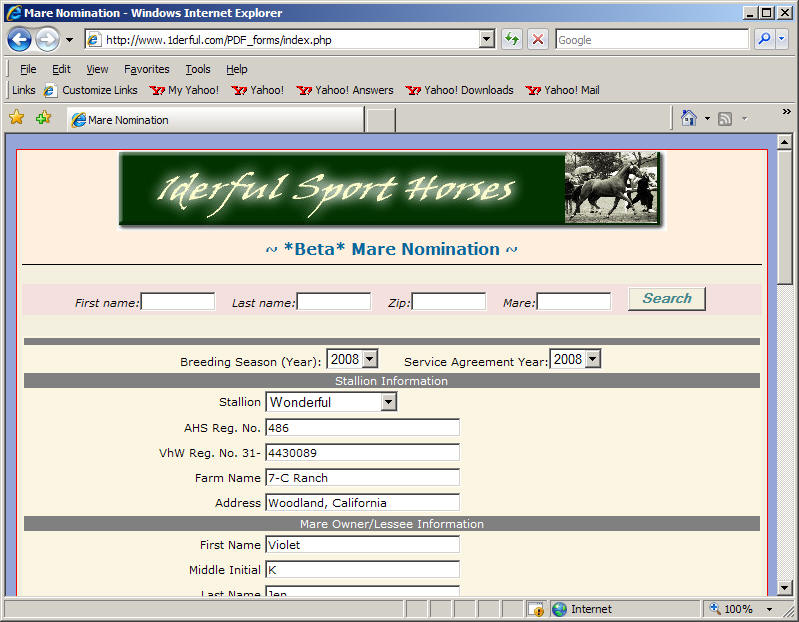 Select the stallion, and all relevant stallion information on the stallion will be auto-populated.

We ship to Canada and all 50 states in the US, so is important you pay particular attention to the Zip code and make sure you select a country.

Here is an example showing some optional fields.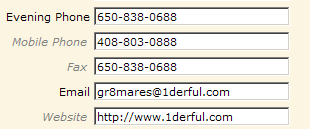 If you're not sure what to fill, just scroll down and click on the button

and the error message or guide will show up on the right hand side of the fields (see picture below).
I use American Hanoverian Society's Stallion Service Certificate, so if you have an AHS mare, just enter her number to the AHS Reg. No. field. If she was imported with a VhW number, please also enter that number. You can omit the 31- portion if the registration number starts with only "31-". If you have a new 15-digit Life Number (Lebensnummer), enter the entire string to AHS or VhW field depending who issued the registration paper.
If your mare is not registered with Hanoverian Society, please just enter the Breed, and the full registration number.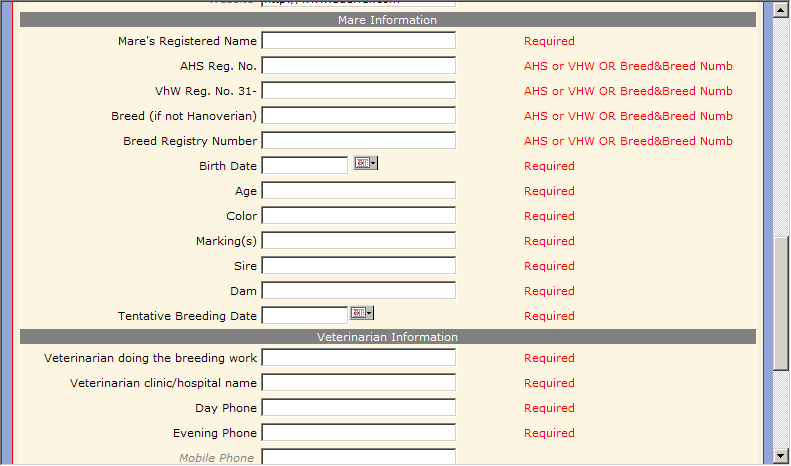 After you filled out all required field, select a document and click on the Save & Print button.

The selected documented will show up in PDF format ready to be printed. Go through the form carefully to ensure all your data entries are correct. If not, use your web browser Back button to go back to the web form, correct the information and click on Save & Print button again. When you are satisfied with the document, print it, sign it and send it to Wonderful Sport Horses. You can use your web browser's Back button to go back and select another document to generate, such as the mare health form and insemination form for your vet to use. This should save time from repeating the same information in those forms.
If you have filled the data once, and you need to change it, or you need to add another mare, or it's a new breeding contract, you can just search, modify and print again. This is particular convenient when you have multiple mares as you can find the record for one mare, change the mare's information, and upon saving the form, a new record will be created for the new mare. If you have been our long time customers, a Search will show you multiple records, just select the one that you want to modify, and the data will be loaded for you to edit and/or print.

How to get personal assistance
Please always feel free to call Violet at 408-803-0888 or email through http://www.1derful.com/ (click on the envelope icon) if you have any question. Also, if you like us to fill out the on-line form for you, just email us all the data required in the web form. Lastly, if you just want to prepare all the paperwork by hand, all the printable documents are still available at: http://www.1derful.com/Forms.
Wish you a WONDERFUL breeding season!